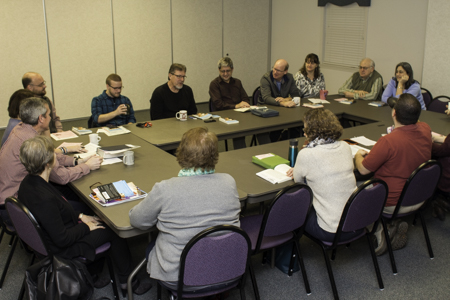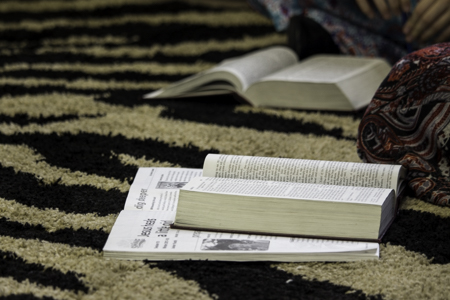 Discipleship is about becoming rooted in Christ and being transformed by the Spirit of Christ. Discipleship teaching happens during our Sunday School time each Sunday and discipleship training happens during the weekdays in the home and community.
Adult Sunday School
Each Sunday we offer the "Standard Adult Bible Study" class and one or two other elective adult study classes. We also offer an "Young Adult" class for post-high and younger adults. The classes are led by gifted persons who are willing to invest their time and energy in teaching discipleship. For the elective classes we try to listen carefully to current congregational needs and community issues in choosing relevant and challenging studies that will generate conversation and challenge toward becoming rooted and transformed disciples of Jesus.  
Library
Our library is expertly maintained as an abundant resource of relevant literature from most recent publications to a varied selection of classic books and audio/visual resources.
Women's Ministry
All women are invited to gather in a monthly event for fellowship and friendship in order to connect, support, and encourage one another. The varied events include brunches, luncheon, sharing faith stories, walks/hikes, pizza and prayers, Bible studies, evenings in flowerbeds and weekend retreats. These events are meant to be times of deepening our relationship with God and one another.  
Men's Ministry – "Journeymen"
Men of all ages are invited to a monthly breakfast fellowship, usually on a Saturday morning. Male friendship are strengthened through a time of sharing, conversation, and praying together. At times this group has responded to a particular need of someone in the church or community by lending helping hands to them following the breakfast event. 
PrimeTimers
All persons reaching the prime age of 50 or older are invited to a monthly fellowship activity which include, but not limited to, game or movie events, picnics, local community outings, dinners, road trips, and service projects.
Affinity Groups
Various types of small groups meet regularly to share life together outside of church programming. These groups are self-organized and directed for the purpose of sharing life and inviting others into the Way of Jesus.