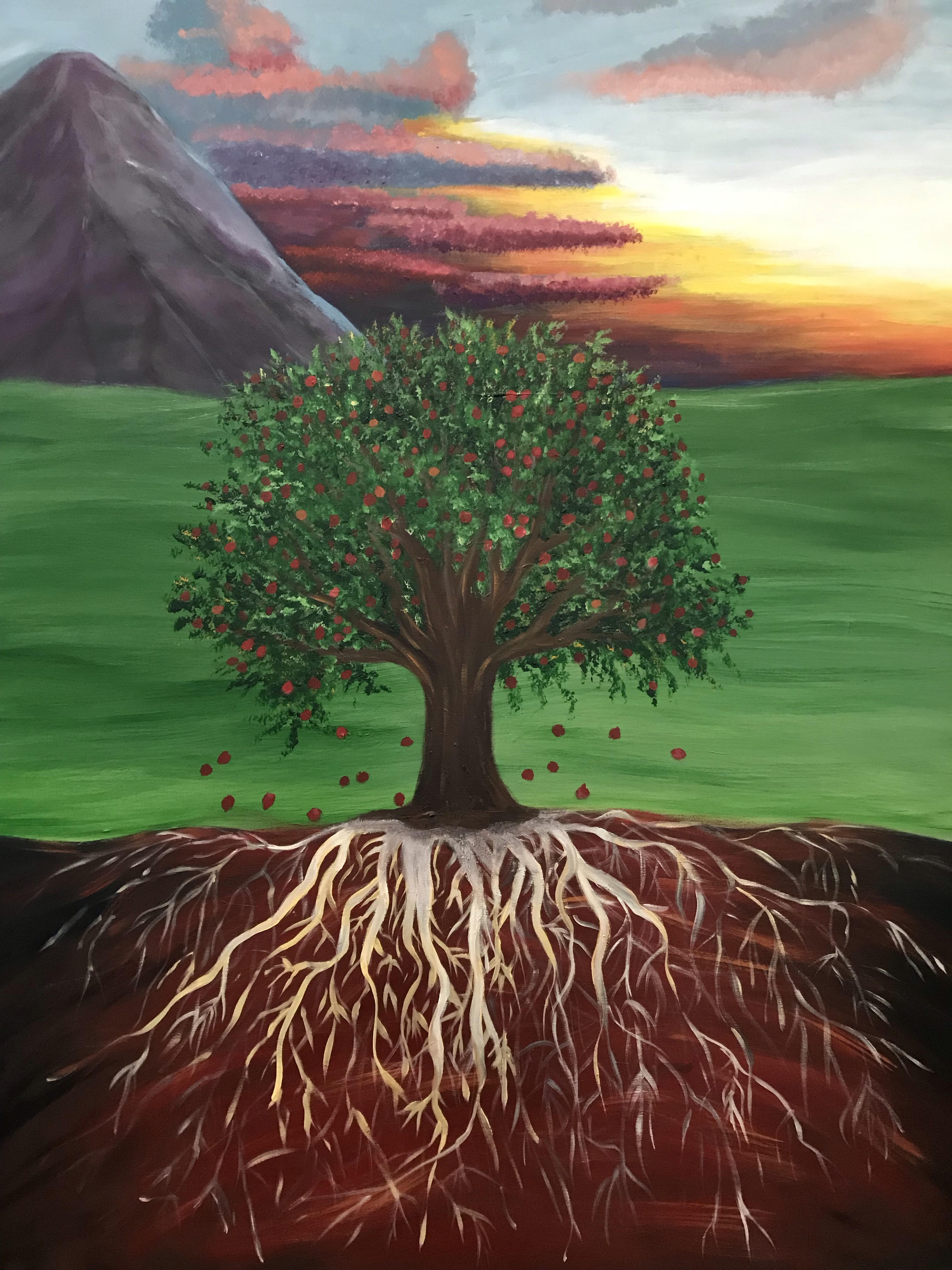 We are a community ROOTED in Christ,
being TRANSFORMED by the Spirit,
SUSTAINED by God's love,
actively INVITING the faces we see each day into the way of Jesus.
A young tree is symbolic of what our congregation desires to become as part of the Kingdom of God.  We believe our theology is deeply rooted in the words of Jesus. We are held together and sustained by God's great love.  As a result, like the limbs and branches of a tree, we want to offer justice, peace and the good news of Jesus to those we meet each day.
Core Values:
Rooted (John 15:1-17):
As Jesus is the source of life, we value daily practices that keep us connected to Jesus and shape our community.
Being Transformed and Sustained (Romans 12:1-2, Ephesians 4:21-24):
As all are created and called to connect, grow, and serve. We value cultivating community life, transformational growth, and serving in Jesus' name.
Actively Inviting (John 3:16, 1 John 3:16, John 21:15, Matthew 28:19-20):
As Jesus loves and invites all, we are called daily to put that truth into action.
Marion Mennonite Church
Membership Statement

 
Verbally acknowledge faith in Jesus Christ as Savior and Lord, choosing to follow Jesus as a life-long disciple.
Romans 10:9-10
Give a public witness to faith in Christ by some form of believer's water baptism.
Acts 2:38, Matthew 28:19-20
Acceptance of the Old & New Testament scriptures as God's Word and Jesus Christ as God's fullest revelation of Himself.
II Timothy 3:16, Matthew 5:17, Hebrews 1:1-3
Be open to the renewing work and gifting of the Holy Spirit.
Luke 24:48-49, I Corinthians 14, 1 Thessalonians 5:19
Aim to participate weekly with fellow believers in Sunday worship and smaller nurture groups for worship, fellowship and training for outreach.
Acts 2:46, Hebrews 10:24-25
Willing to be accountable by giving and receiving loving counsel and care in the body of believers.
Galatians 6:1, Matthew 18:15-17, Luke 17:3
Set aside time daily for worship, study and prayer.
Psalm 1
Plan time each week for family and relationship-building activities.
Ephesians 5:22-6:4
Give a systematic proportion of one's income in tithes and offerings through the local church.
Malachi 3:8-10, Deuteronomy 15: 10, II Corinthians 9: 6-15
Live a lifestyle of peace and service based on the principles of love taught and lived by Jesus Christ.
Matthew 5:38-48, Romans 12:14-21
Use your spiritual gifts and talents for ministry within the Body and in outreach and service.
I Corinthians 12, Ephesians 4:11-16, Philippians 2:7
Be willing to support the congregations' discipleship ministry.  Relate to those whose lives aren't under God's reign with the intent of bringing them to Christ and commitment to a local community of believers.
Matthew 28:18-20, Acts 1:8, Acts 2:41, 47