Leadership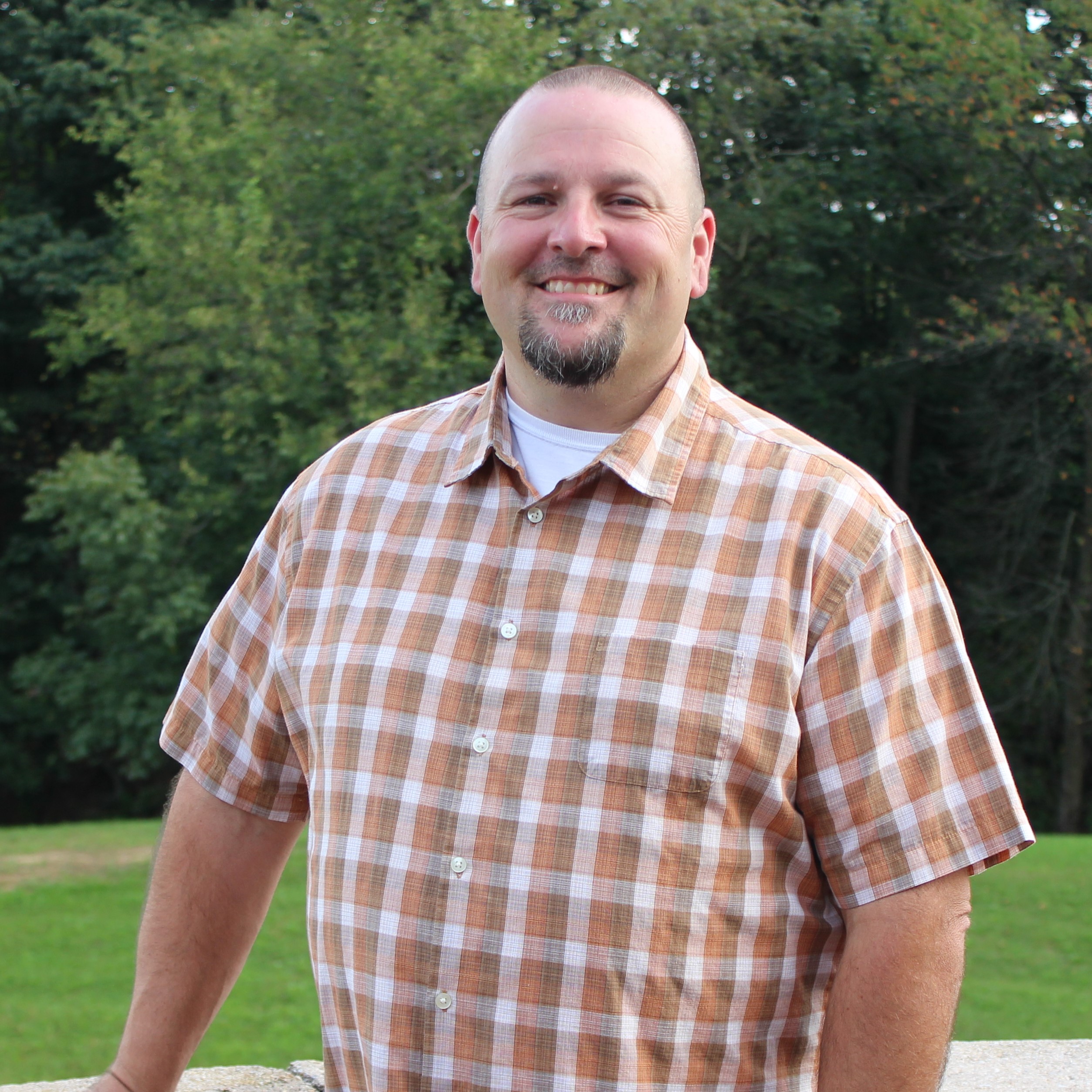 Dustin Dawe, Teaching Minister
dustindawe@comcast.net
I was born and raised in Franklin County and have attended Marion Mennonite Church since graduating High School.  My time at Marion has been full of being mentored, receiving encouragement, and ministry opportunities.  I am excited to serve at Marion and continue to see what God has in store for His church.
I am married to a wonderful woman, Twila, and we have two energetic and enthusiastic children, Jonathan and Abigail.  I am blessed to have a loving and supportive family as we do life together.  We enjoy spending time together whether it is at out our favorite vacation spot, Ocracoke, or pulling weeds from our flower beds.  It is a joy to be together.
I believe the church has an important voice in society.  God has chosen His people to be salt and light in the world.  We as Jesus followers need to display God's love to those we interact with each day in our home, workplaces, and communities.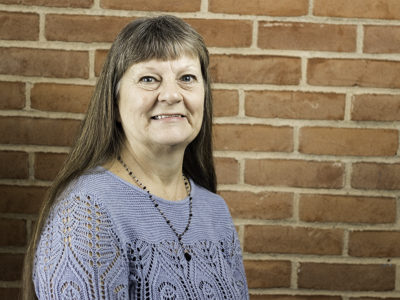 Connie Detwiler, Minister of Care
connie@marionmennonite.org
Connie has a genuine love for others and will walk alongside you. She has put in place a very loving, reliable team, which provides care for the congregation in various ways and are available for visits, prayers, phone calls, comfort and counseling.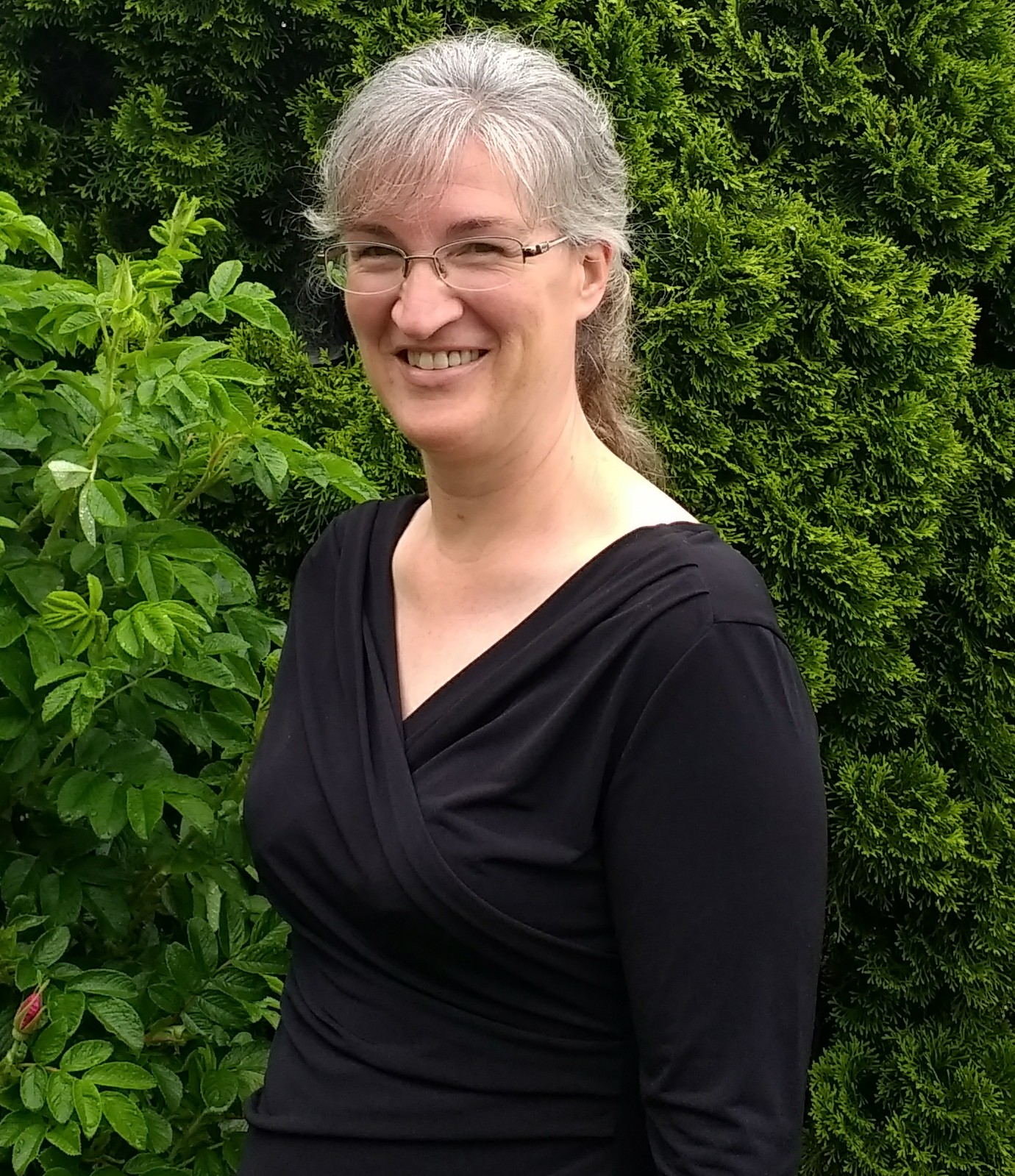 Jenn Hanson, Minister of Outreach and Service
mben3579@yahoo.com
Jenn has a heart for helping those less fortunate than we are and has a great knack in connecting our congregation to the needs of the community.  She encourages our church to be aware of opportunities to help others both in our own community and around the world. Building relationships with others is an essential part of this.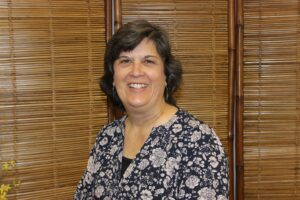 Rochelle Kniss, Minister of Worship
rkniss@shalomca.com
Rochelle has been involved in church music all her life.  Her roots go deep in the Mennonite musical traditions and she also loves to learn new music.  It's so exciting to weave songs from the past and more modern songs into a worship service.  Music touches people deeply and it's always humbling to see how the Spirit moves in a service through the music.   Rochelle's family came to Marion Mennonite Church in 2004.  Marion has been a wonderful place to find community.
When Rochelle is not playing piano at church, she is accompanying the Shippensburg University Choir, teaching piano students, accompanying the High School chorale plus teaching elementary music classes at Shalom Christian Academy.   Her hobbies outside of music are road biking, camping, gardening, Phillies baseball and spending time with her husband and three adult children.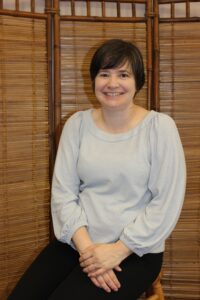 Jackie Shank, Minister of Children
rjshank4@hotmail.com
I believe the best way to show the love of Jesus is to build life long relationship with those around us. I am so excited to have the opportunity build relationships with the children in our congregation. Throughout the years I have had joy of working with children as a preschool teacher, in children's worship, and as a camp leader.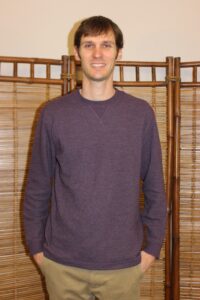 Adam Chupp, Minister of Youth and Young Adults
chupp.adam@gmail.com
Adam has a desire for youth to mature in their faith.  He, along with the team of advisors, provides opportunities for youth to grow in their life with God and relationships with others through bible study, prayer, worship, retreats, social activities, local service, and service trips.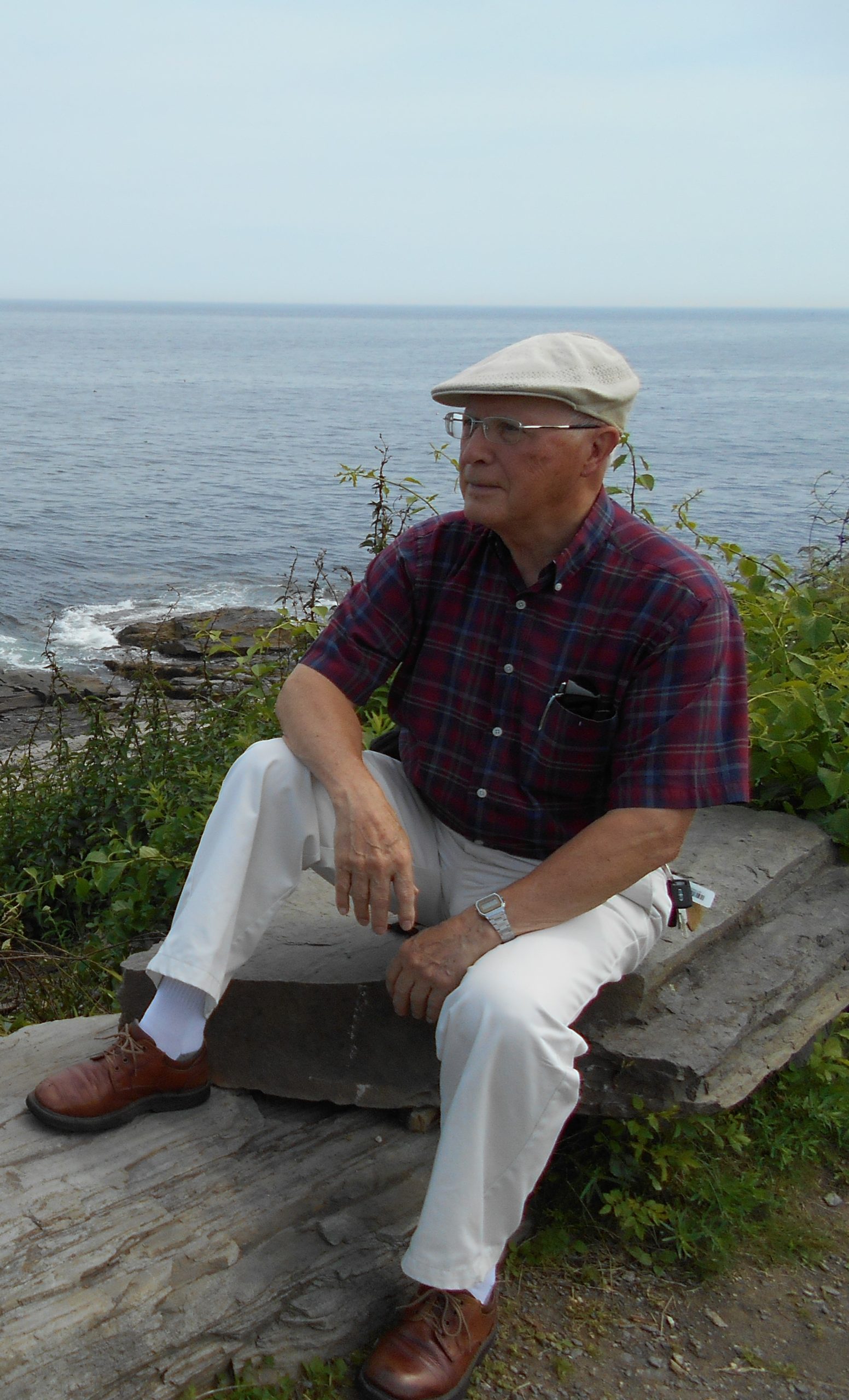 Ray Geigley, Minister of Discipleship
geigler13@comcast.net
Ray gets excited about being a guide and resource for people on the journey of following Jesus in everyday life. Discipleship is about becoming rooted in Christ and being transformed by the Spirit of Christ. Discipleship teaching happens during our Sunday School time each Sunday and discipleship training happens during the weekdays in the home and community.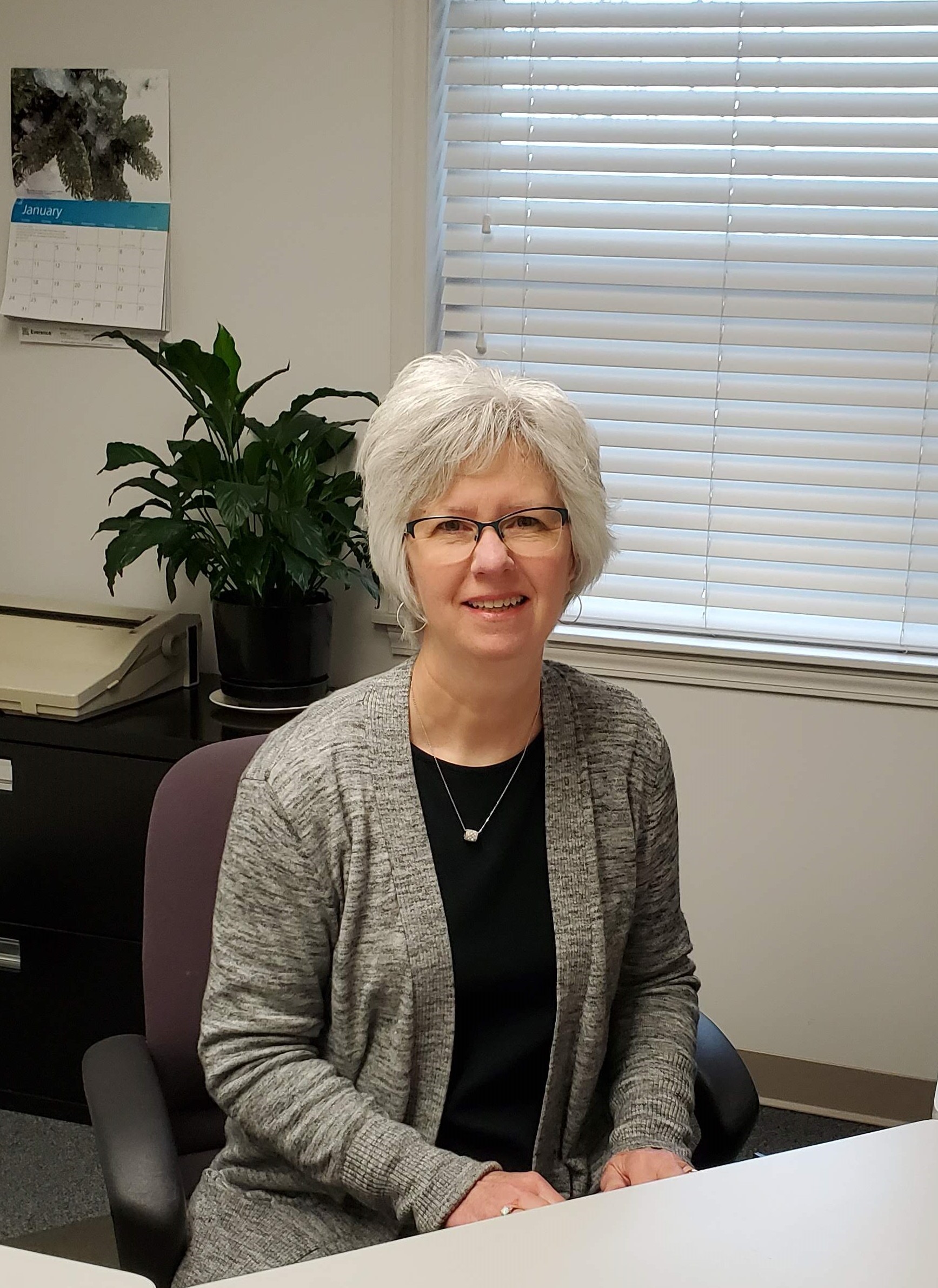 Joyce Lehman, Office Secretary
office@marionmennonite.org
Joyce has been the office secretary at Marion Mennonite Church for over 25 years, carrying out the administrative duties in the church office. She considers it a privilege to serve the church and assist the Pastors in this role.
She is blessed to be married to Gerald, has 3 grown children and 6 grandchildren, which she holds dear to her heart!  Her hobbies include spending time with the grandchildren, biking, cross stitch, and vacationing at the beach.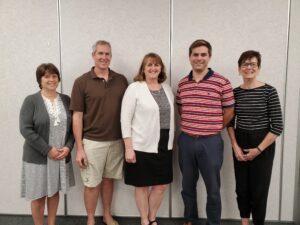 Church Board
(Left to Right): Ronda Bomberger, Cedric Roth, Tina Holderman, Andrew Eshleman, Nancy Griffith
Our Board carries out many administrative functions but the primary function is apostolic (an apostle was the captain of a ship that was going out to establish a new Roman colony). The apostolic calling means to guide the ship to that destination. To that end, the Board must ensure the church operates in accordance with our Constitution, By-Laws and new church Mission and Values along with giving oversight and accountability to the Ministry Team and staff.